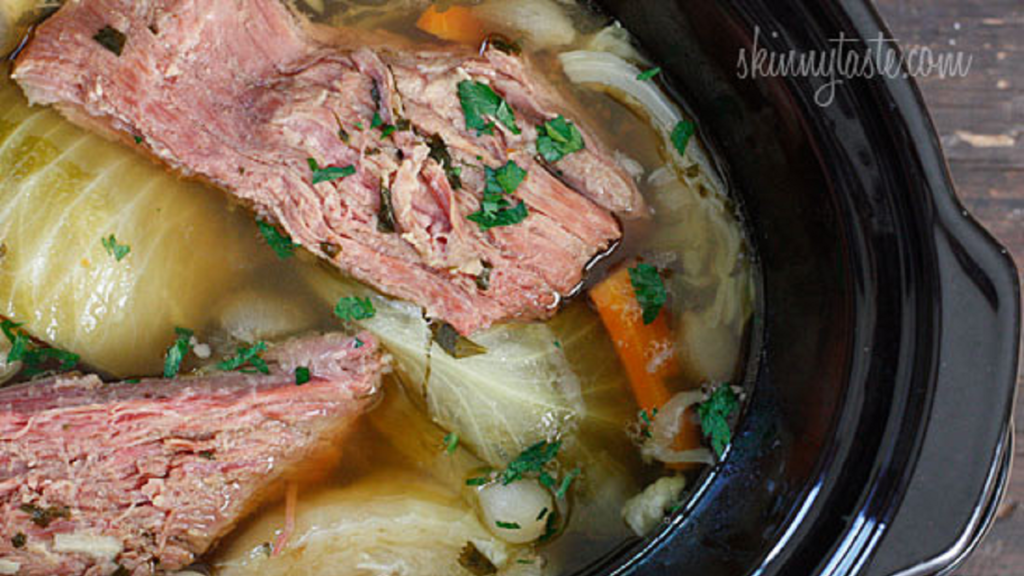 Hello!
We are excited to share this tasty recipe with you originally prepared from one of our favorite recipe sites Skinnytaste.com!
This delicious corned beef and cabbage recipe uses a crockpot for long, slow cooking and amazing tender results.
Crock Pot Corned Beef And Cabbage
294 Calories
PREP TIME: 10 mins
COOK TIME: 5 hrs 30 mins
TOTAL TIME: 5 hrs 30 mins
YIELD: 6 SERVINGS
COURSE: Dinner
CUISINE: American, Irish
Ingredients
2 lbs lean corned beef brisket, all fat trimmed off1 cup frozen pearl onions
2 medium carrots, peeled and cut into chunks
2 medium parsnips, peeled and cut into chunks1 small head cabbage, cut into 6 wedges1/4 cup chopped fresh parsley
2 bay leaves1/8 tsp whole peppercorn
Instructions
1). In a 5-6 qt crockpot, place brisket, carrots, parsnips, pearl onions, parsley, bay leaves, peppercorns and 3 cups of water.
2). Cover and cook on high 4 hours.
3). Add cabbage, cook on high 1 hour 20 minutes more.
4). Remove meat, slice and serve with potatoes or rice. Enjoy!
//
Nutritional Info
Serving: 3oz brisket & veggies, Calories: 294.5kcal, Carbohydrates: 19g, Protein: 18g, Fat: 16.5g, Saturated Fat: 5.5g, Cholesterol: 83mg, Sodium: 960mg, Fiber: 5.5g, Sugar: 3g
Serve this one up at your next family get together or just for you and a loved one on a slow Sunday afternoon. Whatever you decide, we hope you enjoy this tasty recipe as much as we do!
Team Meredith
Original Recipe Link: https://www.skinnytaste.com/crock-pot-corned-beef-and-cabbage/