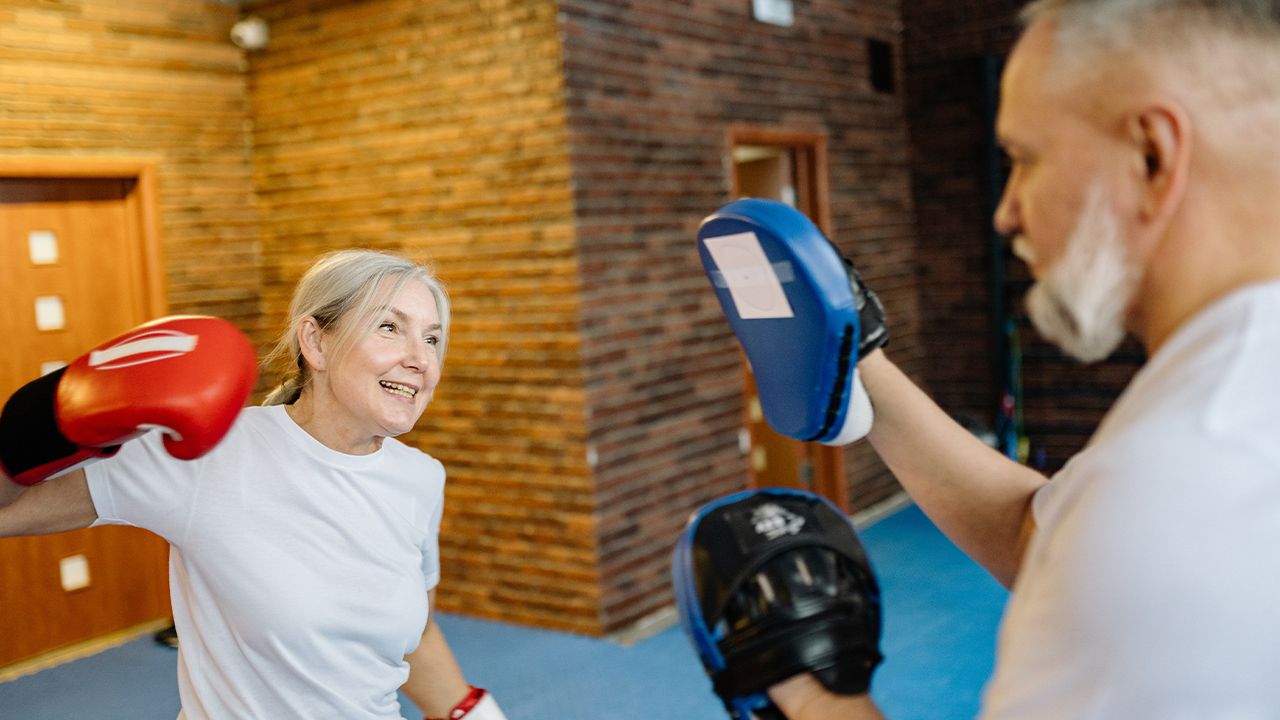 Our bone health is of vital importance, especially as we age. According to the Mayo Clinic, "Osteoporosis causes bones to become weak and brittle — so brittle that a fall or even mild stresses such as bending over or coughing can cause a fracture. Osteoporosis-related fractures most commonly occur in the hip, wrist, or spine.
Bone is living tissue that is constantly being broken down and replaced. Osteoporosis occurs when the creation of new bone doesn't keep up with the loss of old bone.
Osteoporosis affects men and women of all races. But white and Asian women, especially older women who are past menopause, are at highest risk."
Exercise is an essential part to maintaining bone strength. Exercise works the same way on your bones like it works on the muscles, making them stronger. Physical activity can slow bone loss, maintain and increase muscle mass to preserve and strengthen the surrounding bone, and decrease the risk of falling.
These types of activities are recommended for those with osteoporosis: 
Weight-bearing

-These activities are done on the feet, so the bones are supporting your weight. Examples include walking, dancing, low-impact cardio aerobics, and even gardening. These types of exercises slow mineral loss in the bones, especially in the legs, hips, and lower spine. Avoid high-impact movements, as they can be harmful and lead to fractures in weak bones.

Strength training

-These include exercises done using free weights/dumbbells, resistance bands, and body weight. The full body should be worked each week. Remember to give a day of rest after working the upper and/or lower body.

Balance

-Balance exercises help the muscles in the body work together to keep you stable. The core engages, ankles mobilize, and leg muscles work, all in conjunction to keep the body balanced and safe from a fall. Some good examples of balance exercises are heel raises, heel to toe walk, knee raises, and standing on one foot.

Stretching

-Stretching is so important to keep the body flexible. It also keeps the joints lubricated, and working at full range of motion. Stretching will allow the muscles to continue to work properly as well. Try to stretch after the body is warmed up, and hold each stretch for a few seconds without bouncing to get the maximum effect. If diagnosed with osteoporosis, especially in the spine and low back, be aware of any bending and twisting movements as they can lead to compression fractures in the spine. 

What else can be done to slow or stop bone loss:
Healthy diet – Eating a well balanced diet, including lean proteins, fruits and vegetables, and whole grains to help maintain a healthy weight. Calcium and Vitamin D are very important to preventing bone loss. They work together, with Vitamin D helping with the absorption of Calcium from the intestines. 
Healthy lifestyle choices – No smoking, and if you do, work on quitting.  Alcohol should be drunk in moderation. See a doctor for regular check-ups.
Exercise – As specified above with many examples and types, exercise will help strengthen your muscles and bones, and help with your balance to help prevent falls and fractures.

With just a few changes, you can make bone health a priority…And keep you
 All Over Strong!
Stay happy, healthy, and positive always!
-Meredith