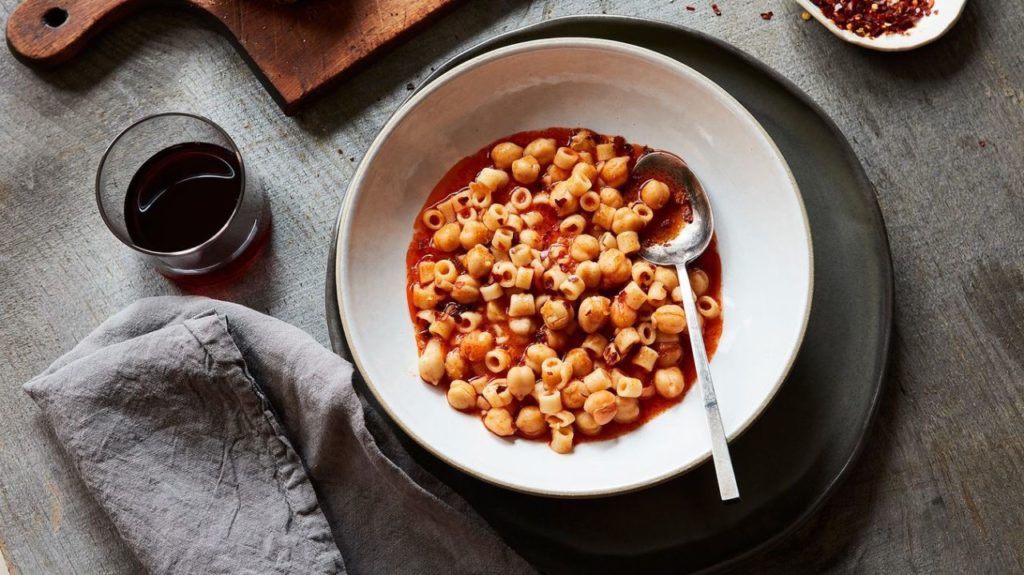 This is a repost of an original article posted by www.Food52.com
Now more than ever, home is where many of us are seeking refuge and solace in light of the novel coronavirus. This is a tough time, but we're here for you—whether it's a new pantry recipe or a useful tip for your kitchen, here are some ideas to make things run a little more smoothly for you and your loved ones.
Wherever you are in the world, I hope you're safe and sound at home. As we all navigate the global COVID-19 crisis, it's important that we're still nourishing ourselves—not just our stomachs, but also our minds, our hearts, and our communities. As my colleague Brinda's grandmother texted her today from Singapore, "Don't get depressed. Sing, play on the piano, read novels, learn knitting and sewing, meditate—all these help."
I don't know if I believe that the simple comforts of cooking will indelibly cure the ailments of today and tomorrow, but I do know that walking into the kitchen to make yourself something to eat—no matter your situation and how you feel about it—is always a good thing, a nourishing act.
Here at Food52 we've been sharing our quarantine meals on social media (Instagram, Twitter, and Facebook) with the hashtag #f52community. We invite you to do the same—and please add to this list in the comment section below. What are you cooking right now? And how are you doing?
To start us off, here's our co-founder and CEO, Amanda Hesser, on one of her favorite pantry meals: (Click on image to open full recipe)
1 – Pasta Con Ceci
"There's only one thing to prep (it's garlic), and all you have to do is smash it. I love, love, love this dish because it's so simple, and it's really something you can make mostly without having to go to the grocery store." —Amanda Hesser, co-founder and CEO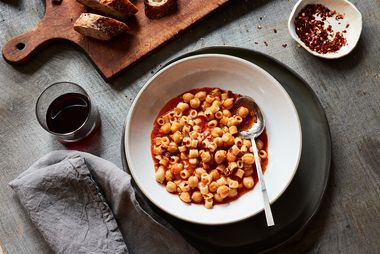 2 – Turmeric Chickpea Soup With Charred Brussels Sprouts
"I always have canned chickpeas, coconut milk, and turmeric on hand (and imagine that many of you do, too), so this hearty soup from Hetty McKinnon is going to save me several times over in this period when we're at home. Just last night, I made it with crispy charred kale, instead of Brussels sprouts, because that's all I had on hand. Can confirm: Super delicious." —Brinda Ayer, managing editor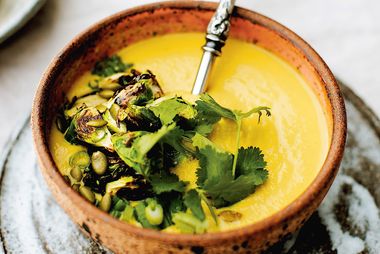 3 – Pork Shoulder Ragu
"I bought a couple pork shoulders from the farmers market right before it closed up for the season—and now is the time to put them to good use. I love this recipe's foolproof technique (brown all over, get in the oven, forget about it) and forgiving ingredient list. If your kitchen is like mine, you already have most of your bases covered. Think: canned tomatoes, onion, garlic, fennel seeds, red wine, hot sauce. But if you're out of the fresh herbs? Who cares? Swap in dried to sight, or don't. It'll still be Genius." —Emma Laperruque, food writer and recipe developer.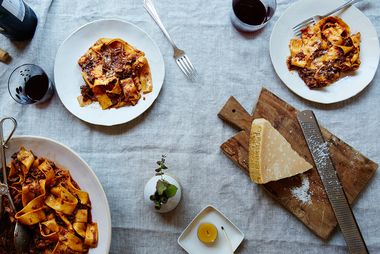 4 – Momofuku Bo Ssam & 5 – Five-Fold Challah
"I have a pork shoulder sitting in my fridge, too! I'm planning on bo-ssaming it, since Coral said to. I don't have a whole lot of extra time to actively cook right now, since my husband and I are also watching our busy, suddenly walking 1-year-old while working from home, but I'm looking forward to taking short breaks to do things like shake some salt and sugar on a big hunk of pork to cure it, then peek at it during its long, slow roast in the oven. I've found meditatively folding yeasted dough does the trick, too." —Kristen Miglore, creative director of Genius.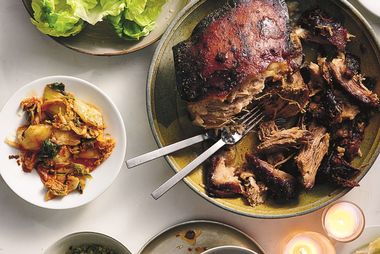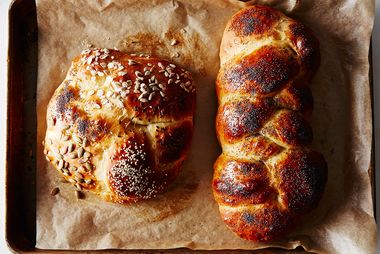 6 – Yellow Curry With Root Vegetables, Cashews & Basil
"I bought a jar of yellow curry paste months ago and just rediscovered it in the shadows of a supersized bottle of soy sauce in my condiment shelf. Oh hi you, ahem, right. Where were we? With parsnips, carrots, a few red bliss potatoes that are just getting a little soft around the middle, and a can of coconut cream, I'm making this for dinner. Then garnishing with toasted coconut flakes and chopped peanuts, like confetti." —Maggie Slover, senior copywriter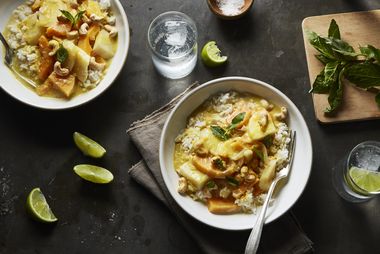 7 – Chickpea Pot Pie
"Emma's chickpea pot pie is the most comforting, hearty thing and it makes a TON, so I knew I'd have enough to last for lunches and to freeze for later. I picked up those ready-made biscuits in a can and I'm thinking of swapping those in for the puff pastry. Either way, you can't go wrong and will have fall-in-love comfort food for days." —Celeste Scollan, copywriter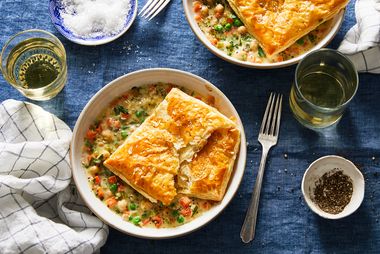 8 – Pasta With Broccoli Rabe & White Bean–Anchovy Sauce
"I made an extra-brothy riff on this pasta recipe using what we had in the pantry and fridge: elbow macaroni, chicken stock, broccolini, canned beans, garlic, and a pack of mushrooms that were about to go bad. I served myself a big bowlful, sprinkled a lot of cheese on top, and slurped it (without spilling, yay!) while I watched a movie on the couch." —Erin Alexander, associate editor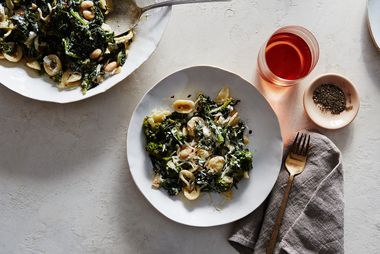 9 – Stand-Mixer Pie Dough
"It might seem flippant to make a fruit tart while quarantined, but also, when else would be a good time? Midmorning yesterday, I went to my neighborhood kitchen supply shop to pick up a fluted tart pan. Flustered by the selection, I went to the cashier for help, who then held out her hand (the universal sign for "stop," and "please stay away from me") while offering assistance from a respectable six feet away. It was like playing Marco Polo, but we weren't in a pool. And we're adults. During this quarantine, I'm learning new, small ways to be kind—to others (keeping a distance), to my partner (being okay with letting dishes soak), and to myself (making an inordinately elaborate fruit tart)." —Coral Lee, associate editor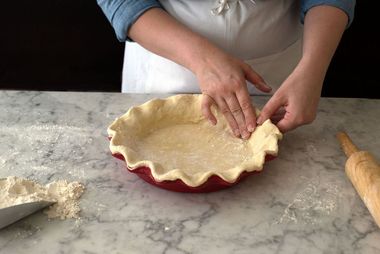 10 – French Onion Soup, The Scorched Way
"I'm planning to make a big ol' batch of French onion soup while I'm holed up this week. I've stockpiled lots of onions (one of my roommates bought a bunch and has since fled N.Y.C.), a frozen loaf of sourdough, and three containers of chicken and beef broth in my fridge, which have got to go somewhere! Oh, and I also bought about seven types of cheese over the past week, because if we're all going to be quarantined, I'm going to be quarantined with cheese." —Caroline Mullen, assistant editor of lifestyle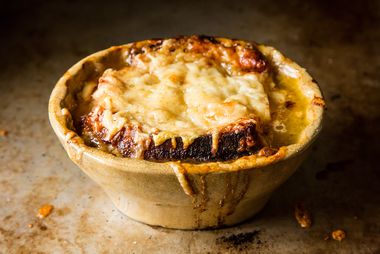 11 – Coconut Dal With Turmeric Rice
"Yesterday, I made Chita Agrawal's super-flavorful, ultra-comforting coconutty dal. Growing up, steaming hot dal over a bowl of rice was the panacea for all ails—a fever, a stomach bug, heartbreak. The occasion determined how simply made or loaded it was: when you're sick, for instance, a watery dal with just a little turmeric, cumin, and salt; for happier occasions, darker dals made rich and hearty with coconut milk or cream, and a chaunk. I really can't think of a more comforting meal for the prevailing times. If you're concerned you don't have an ingredient or two on this list, riff away. No tamarind paste? Chop up some tomato for acidity. I've also switched up the red lentils with brown. Anything goes." —Arati Menon, senior editor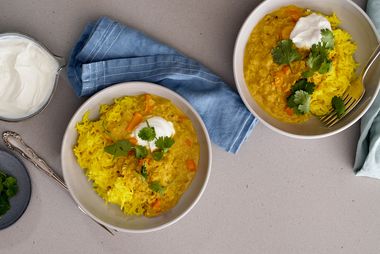 12 – Ram-Don
"I had a few packs of the instant noodles needed to make Ram-Don sitting in my cupboard. Luckily my husband was able to find one solitary strip steak at our local grocery store yesterday, so Ram-Don it was! With a side of kimchi that was stashed in the back of our fridge. I know it's not the most universally available thing to make, but as far as minimal-ingredient cooking goes, it's a real winner—plus, its resourcefulness feels especially applicable right now. If you have any kind of instant noodles and some protein—be it a steak, tofu, chicken, or an egg—you can make yourself a pretty rewarding meal. And if you have more than that—some greens, herbs, or pickly bits—you're really in luck." —Joanna Sciarrino, executive editor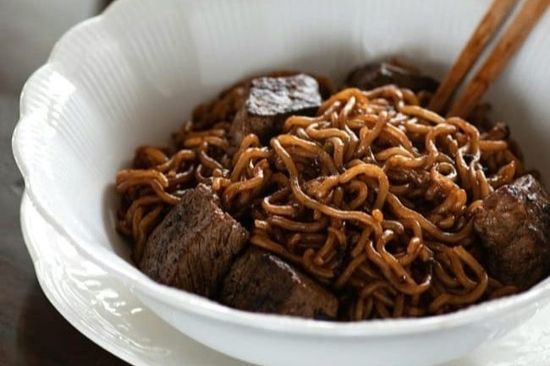 13 – Kimchi Fried Rice With Nori
As for me, I always have jars of kimchi fermenting in my fridge, which has been a huge help these last few days in self-quarantine as my vegetable stash dwindles day by day. And with any leftover vegetables, I do have sitting in my crisper drawer (a nub of broccoli, a few stalks of asparagus, maybe a quarter of an onion), I've been taking James Beard's lead and sautéing them very briefly in a pan with butter and soy sauce.
White rice and roasted seaweed (or nori) are also two pantry items I buy in bulk and keep on hand for everyday meals, and they feel especially comforting to cook with now: Everything goes in one pan, along with some salty-sweet Spam, crisped in sesame oil, and a small handful of that kimchi. It makes a big stir-fried rice, and I could eat it forever.